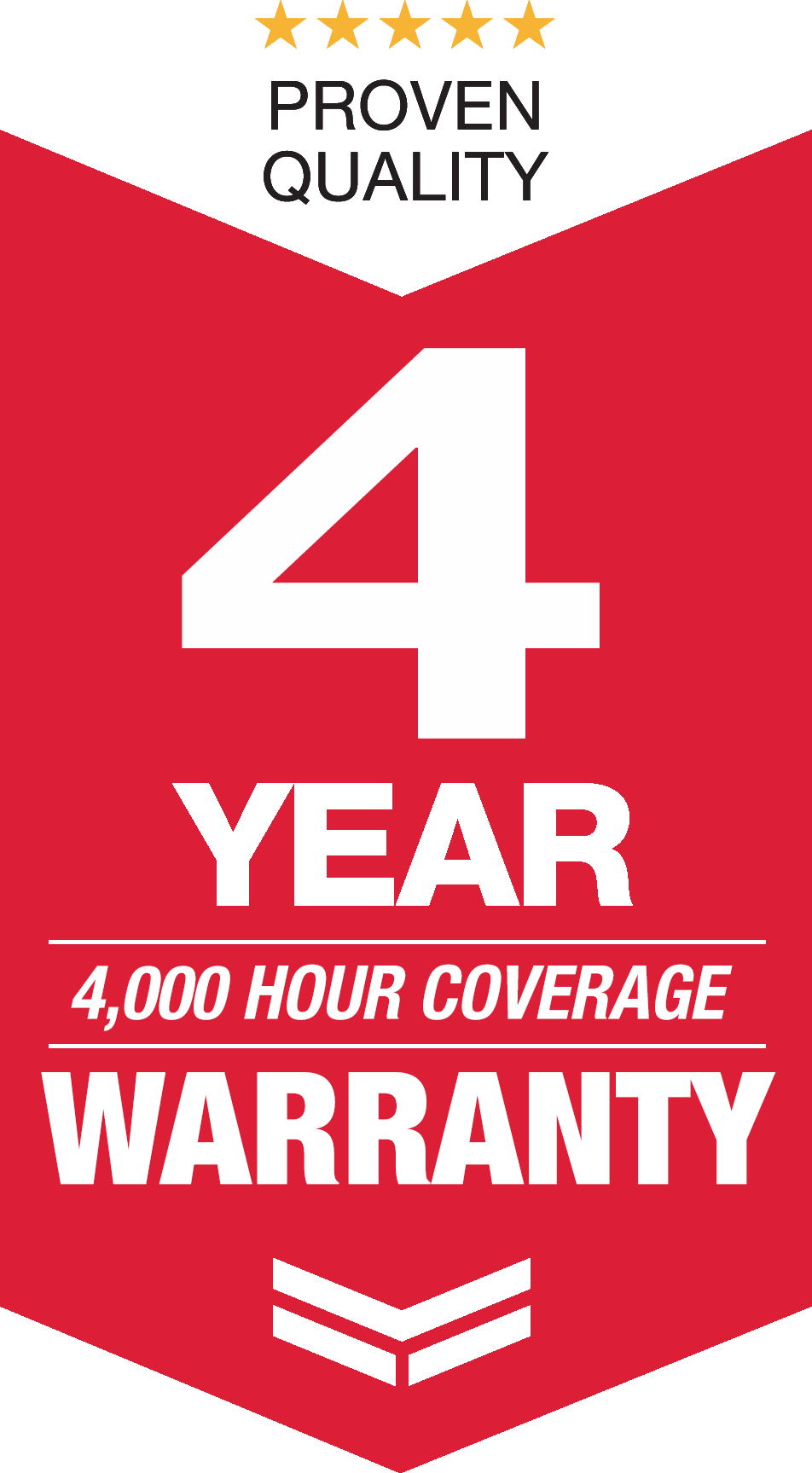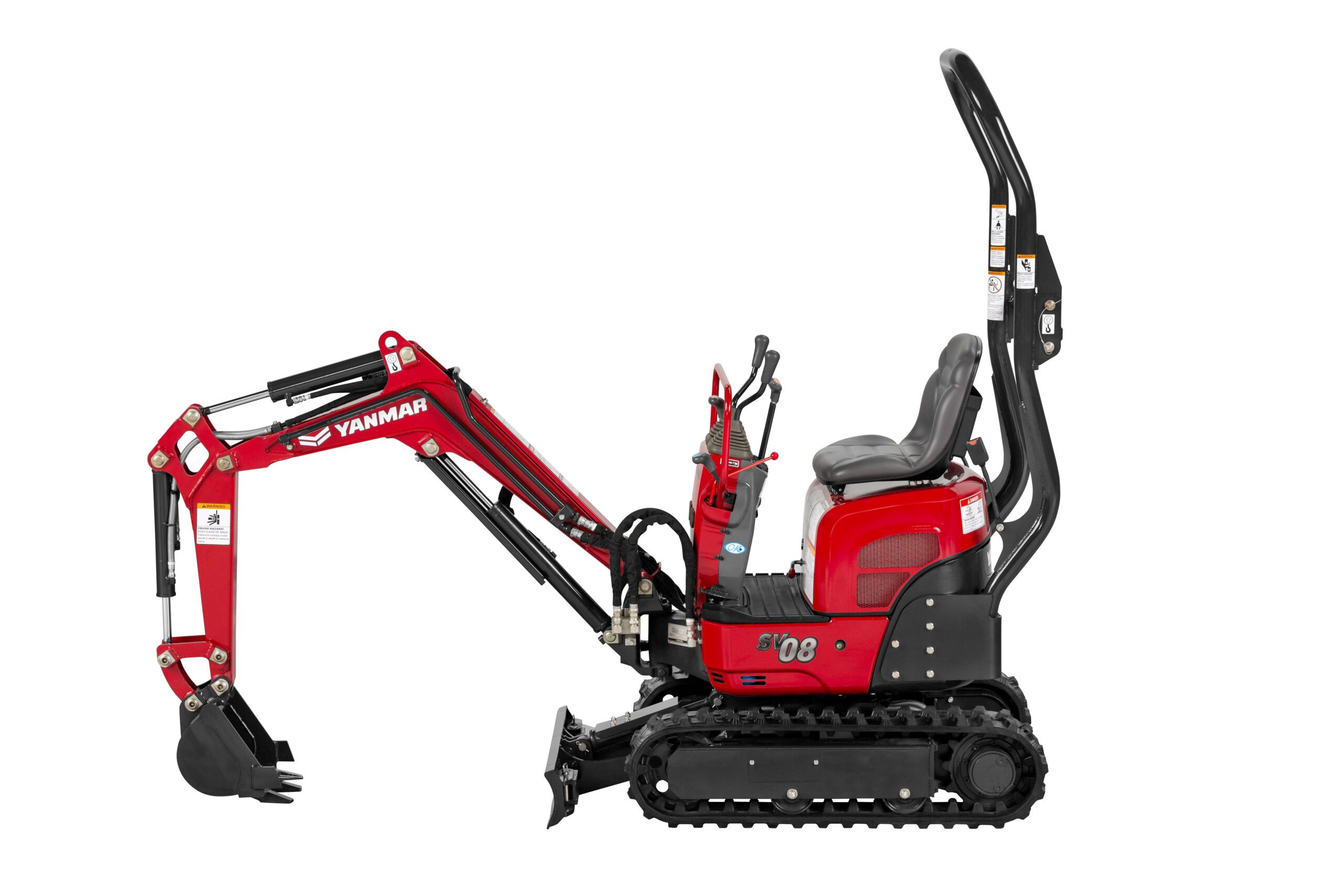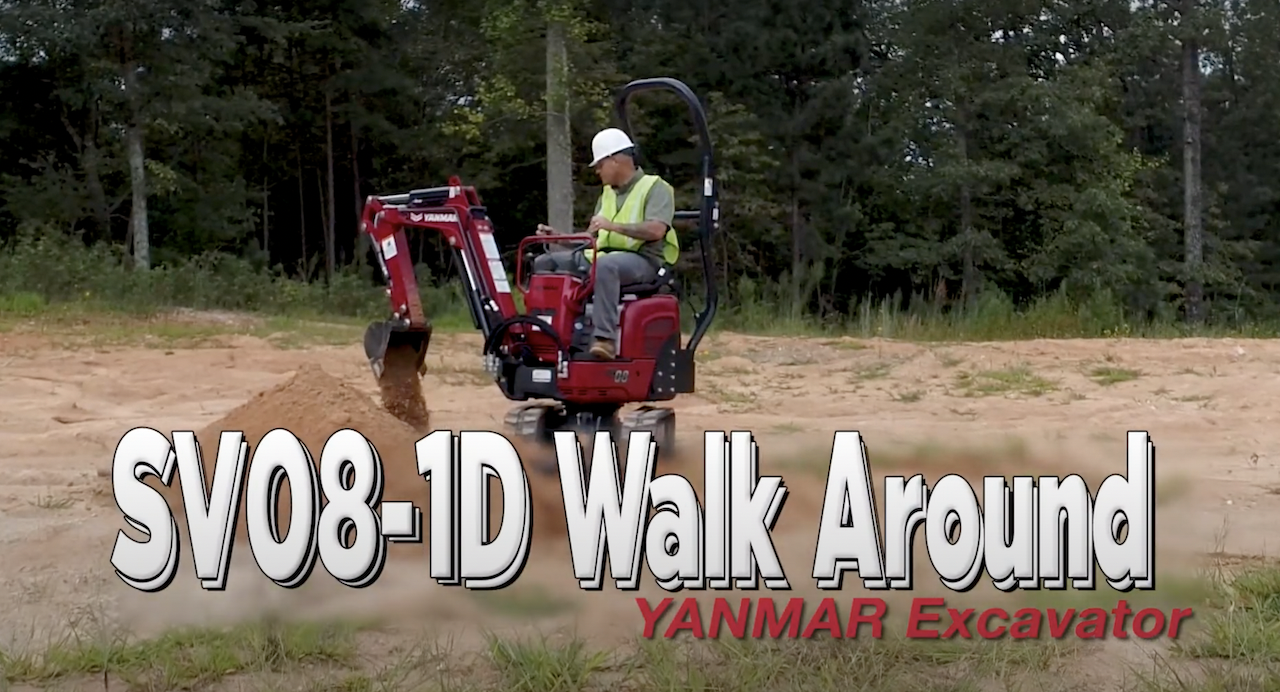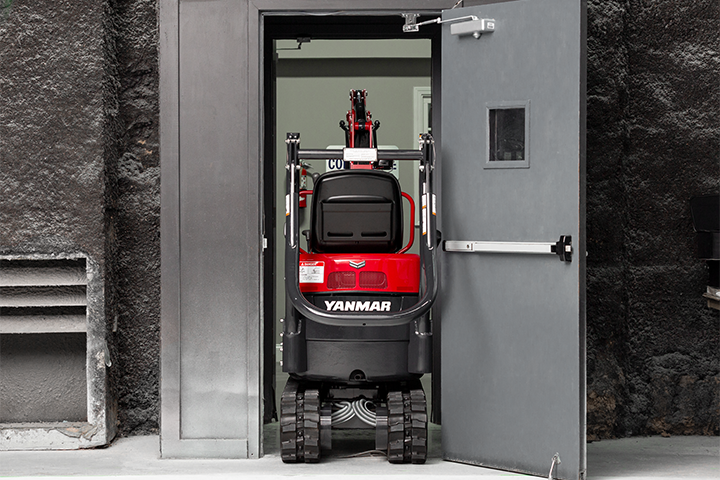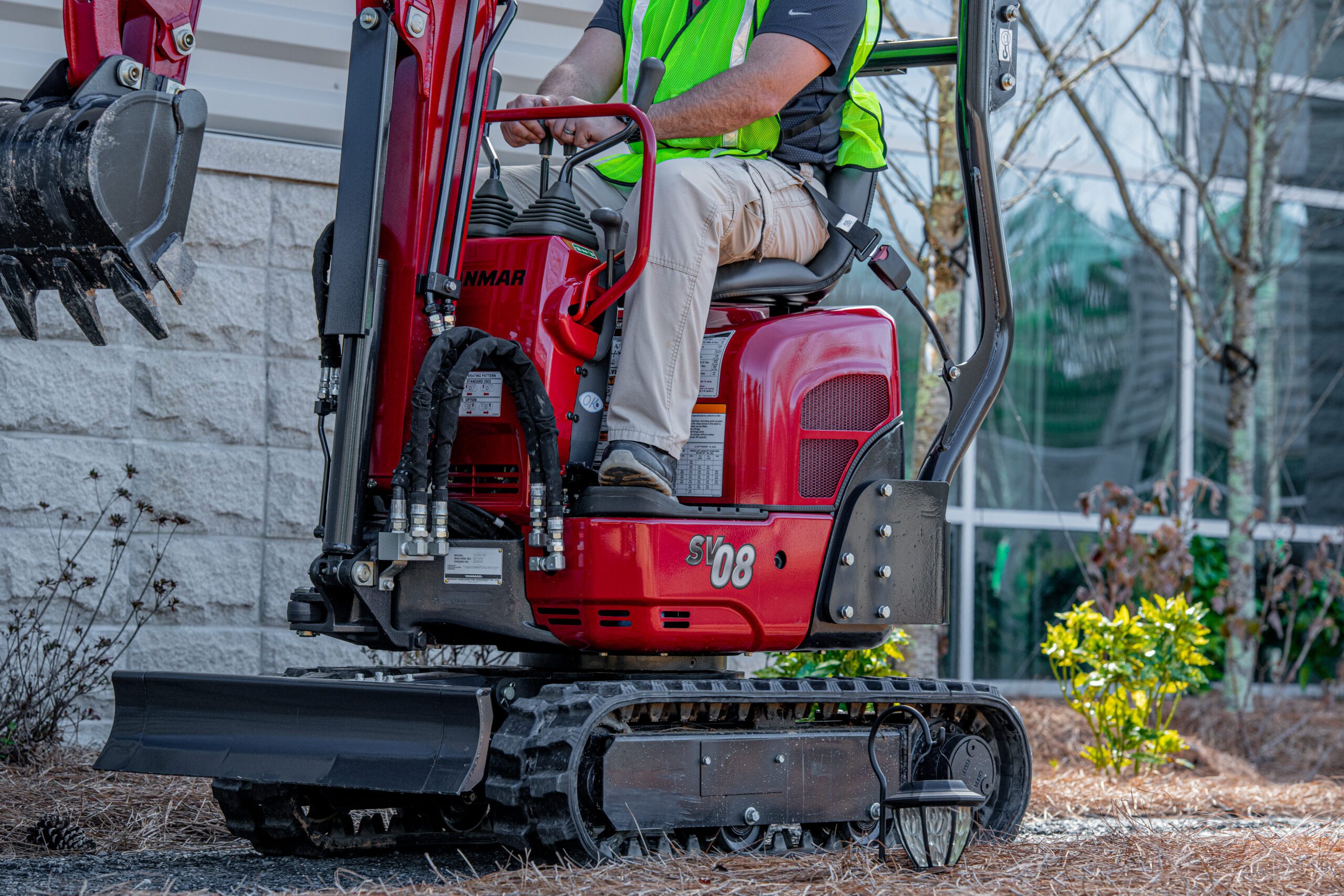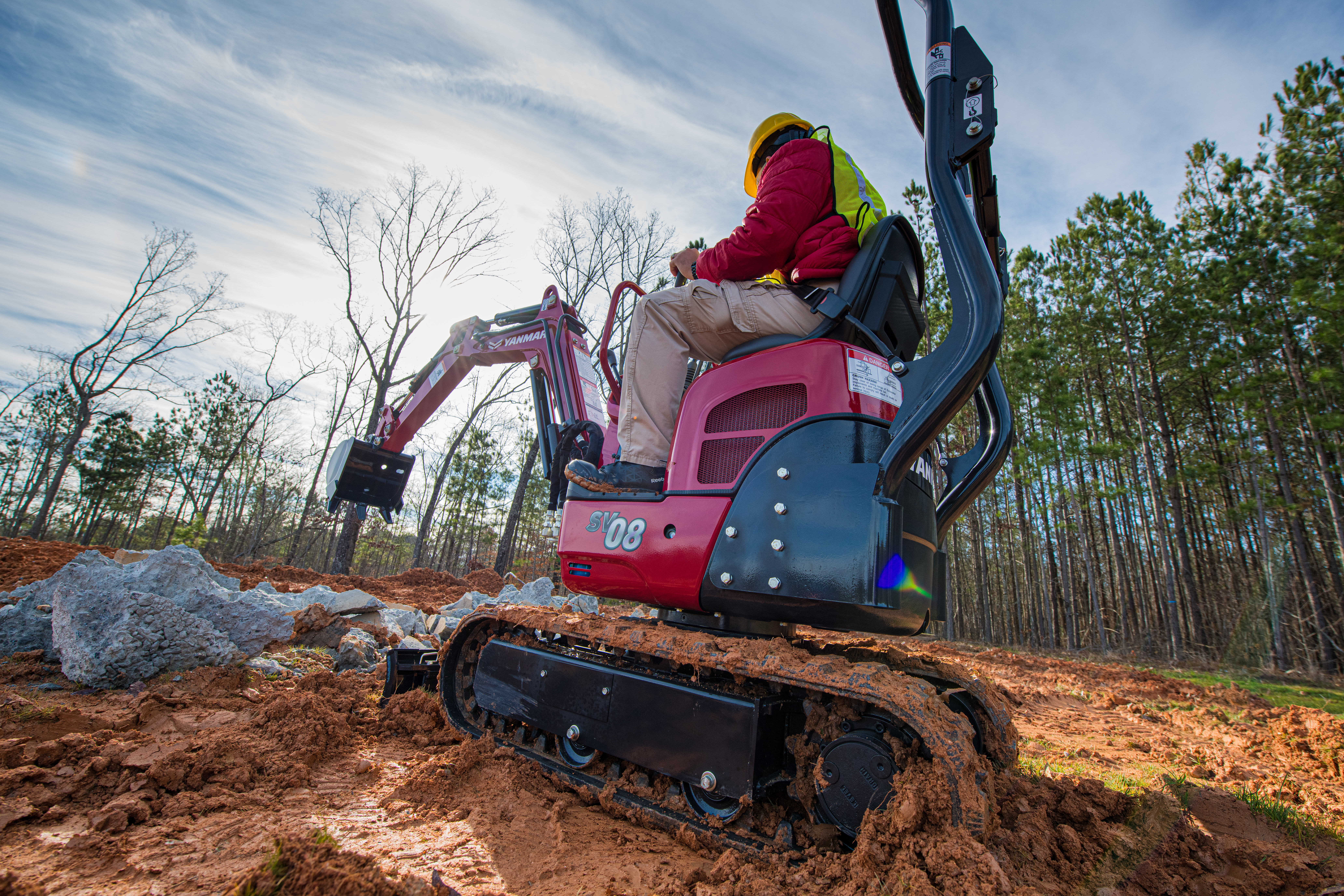 Mini Excavator SV08-1D
Small but mighty
Horsepower
10.3 HP
7.7 kW
Max Dig Depth
5'4"
1,620 mm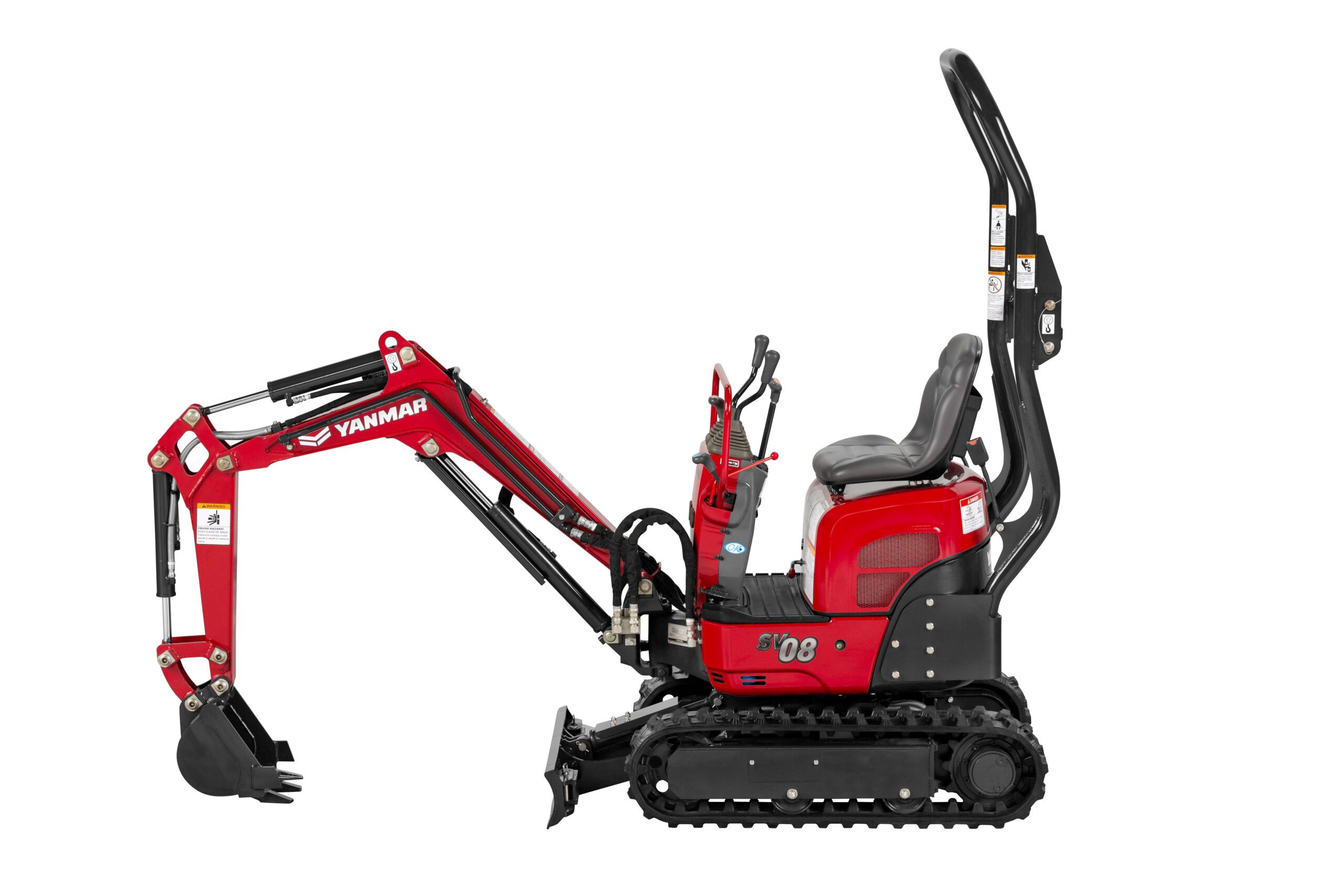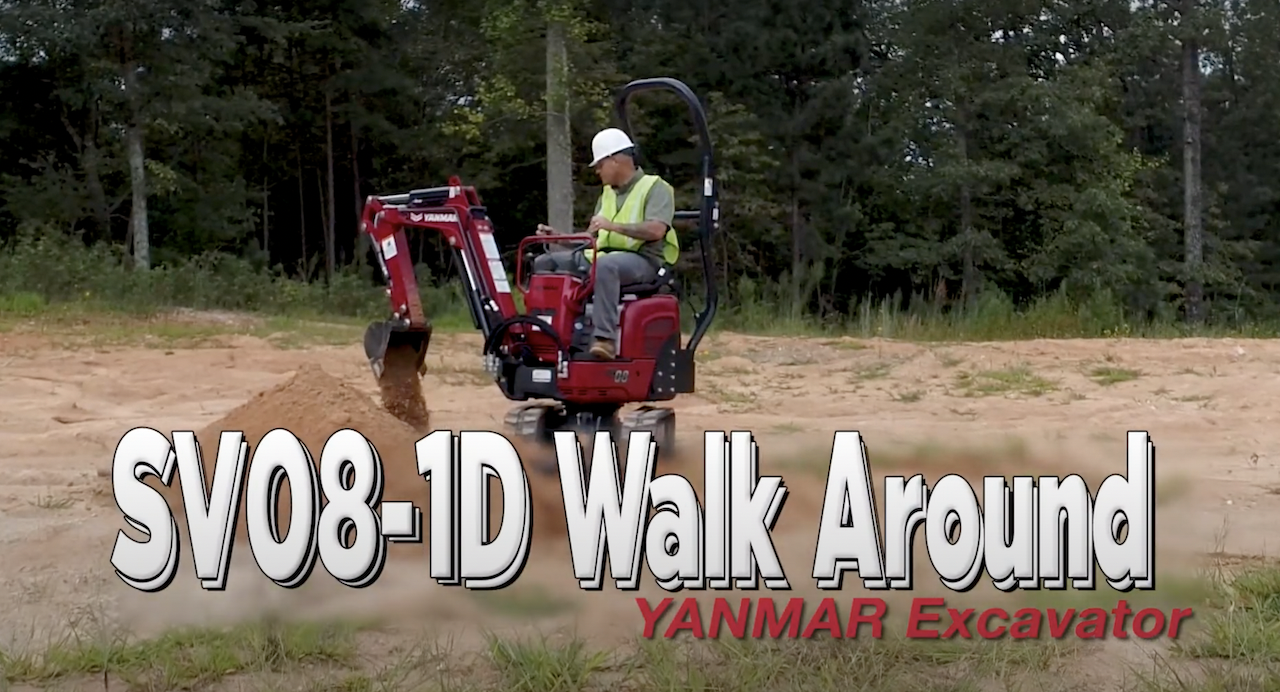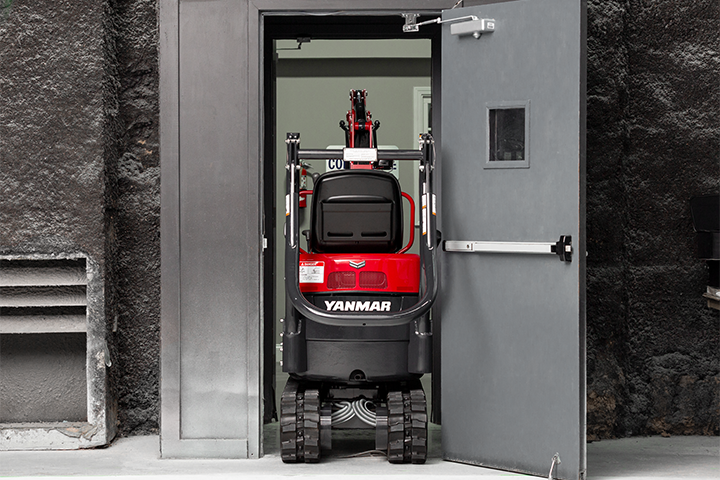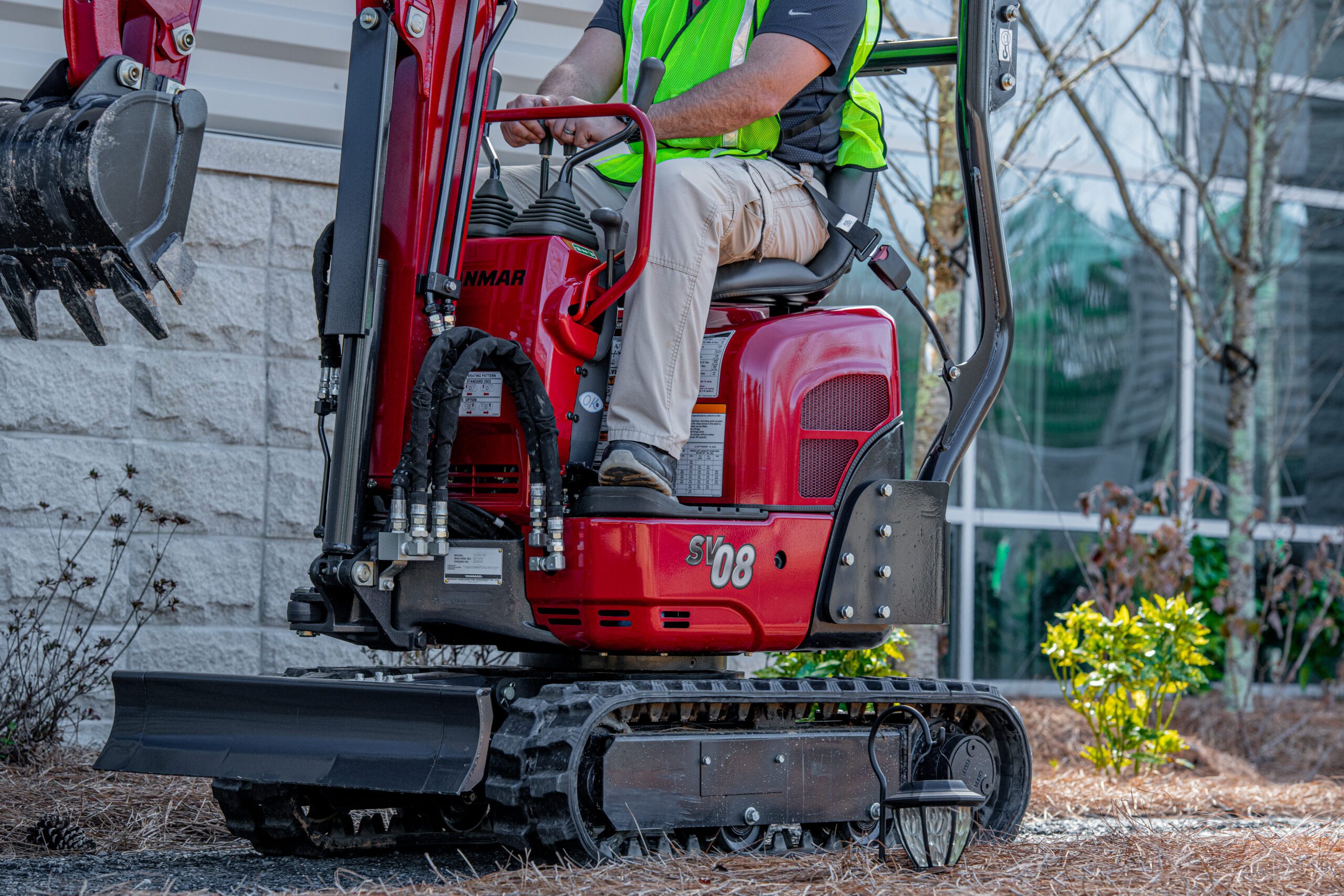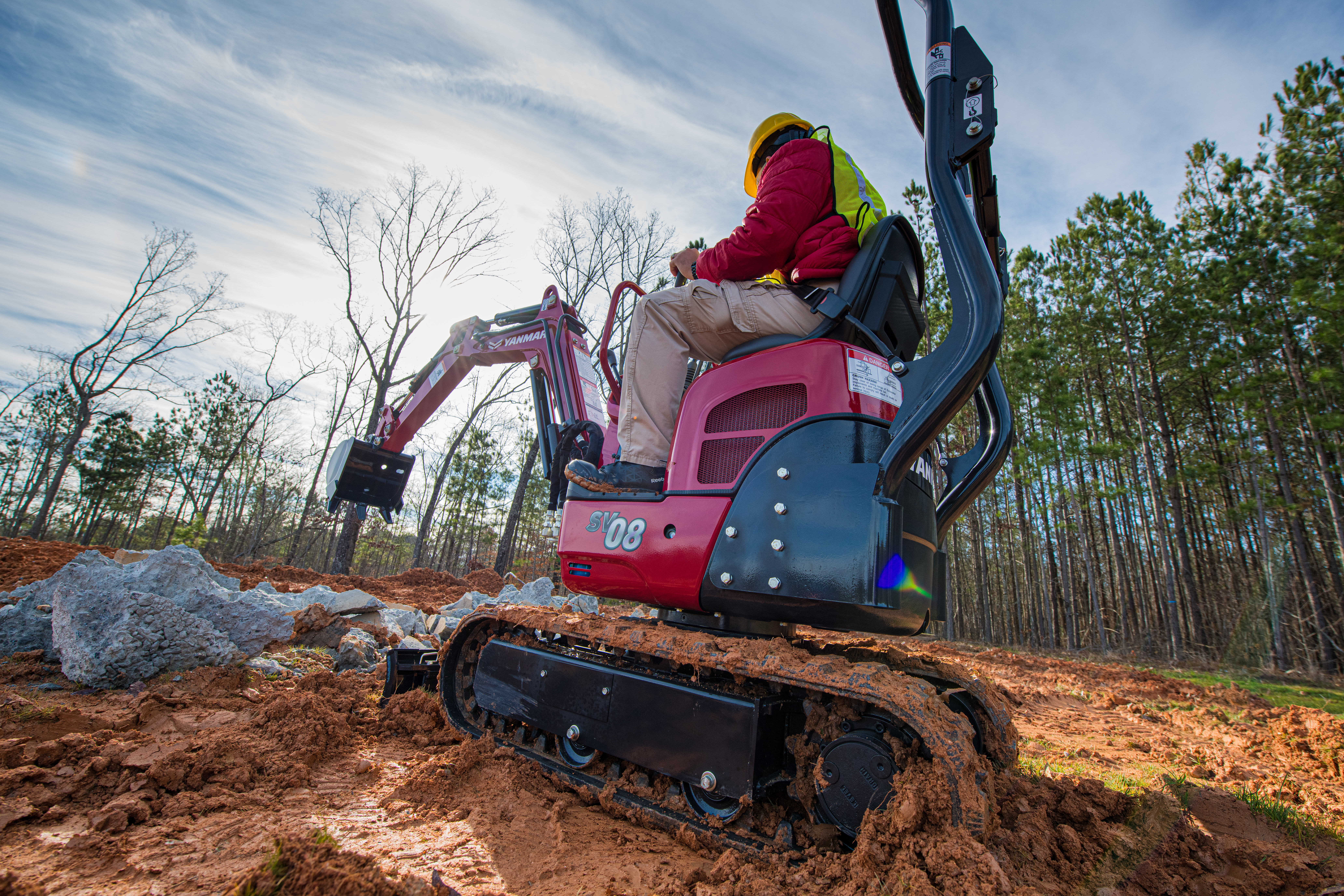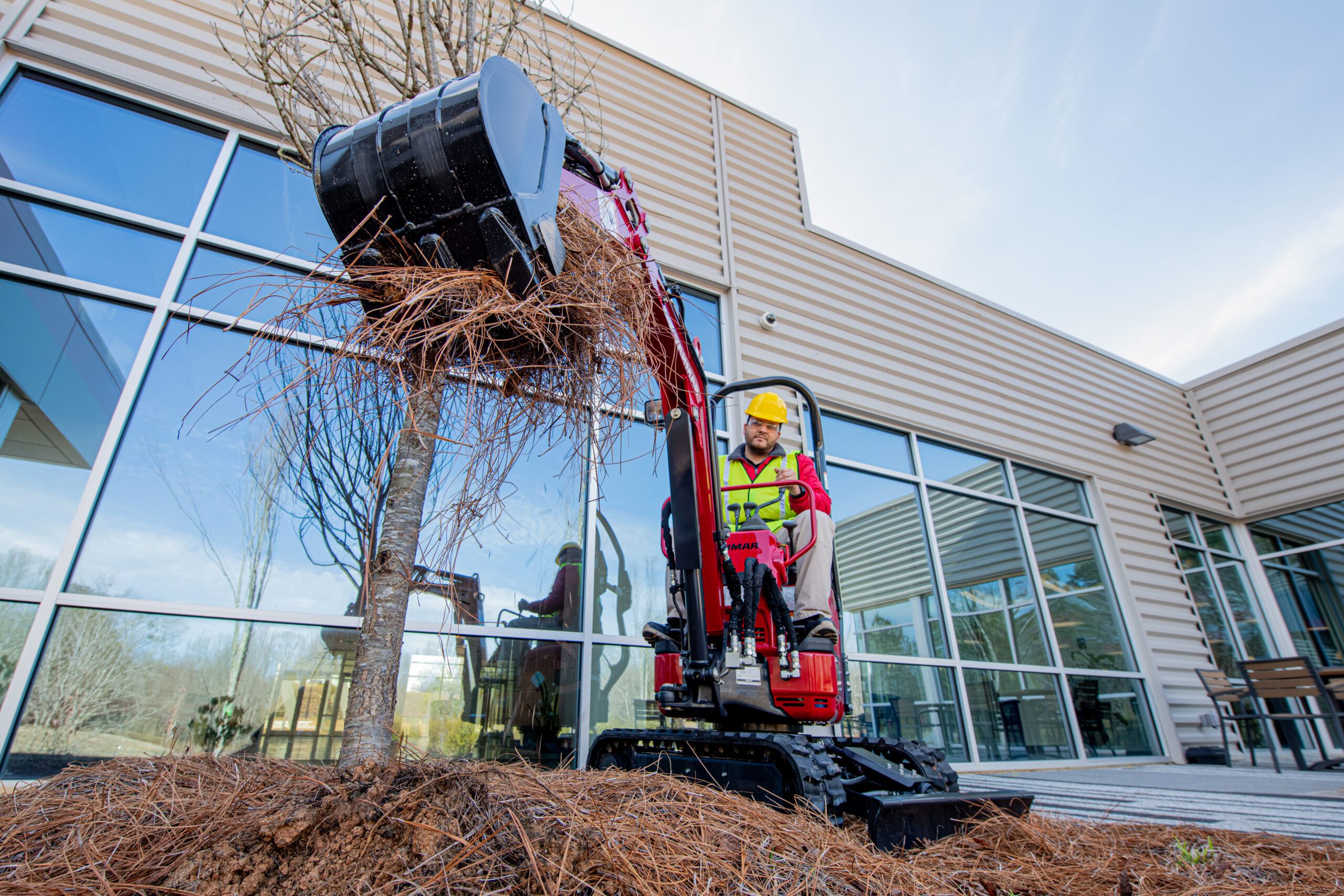 Adjustability to go work almost anywhere
The SV08-1D is already our most mini excavator, but it can crawl and work in even tighter confines thanks to an adjustable track and blade design that narrows to 27" (680 mm) and expands to 33" (840 mm) for additional stability. Plus, the compact body touts a turning radius of just 29" (735 mm) with a rear overhang of just 12" (305 mm).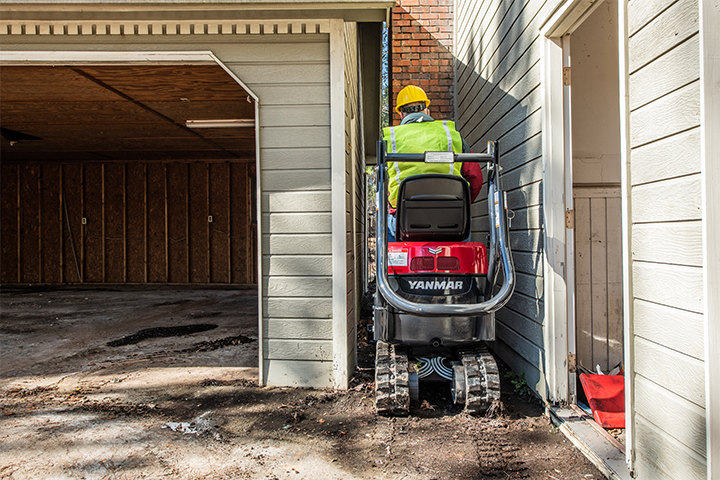 Clean, reliable and efficient

A proven twin-cylinder diesel engine touts an incredibly clean Tier 4 Final rating with 10.3-horsepower and is easily accessible for fast and simple routine maintenance.

Tight tail swing

The compact design allows the counterweight to be attached tight to the house resulting in near-zero tail swing performance for tight jobsite capability.

Adjustable width tracks

Get jobs done where other excavators simply can't fit. The adjustable track design ranges from 33" (840 mm) to a narrow 27" (680 mm).

Two-way pattern control

Easily change between standard operating pattern (excavator controls) to option pattern (backhoe controls) in just minutes.

Standard auxiliary hydraulics

Power additional accessories with auxiliary hydraulic connections with an easy-to-use foot-control that provide precise flow control.

Protection that adapts

Our rugged, foldable ROPS system keeps operators safe while allowing the SV08-1D to navigate narrow passages as tight as a standard doorway.
Specifications
Engine
Type

Water-cooled 2-cylinder diesel
Water-cooled 2-cylinder diesel

Model

402F-05 EG84548R
402F-05 EG84548R

Output HP (kW)/rpm

10.3 / 2,800
7.7 / 2,800
Operating Weight
Rubber Track

2,348 lbs.
1.07 t
Performance
Max Digging Force, Bucket / Arm

2,360 lbs. / 1,390 lbs.
10.5 kN / 6.2 kN

Traveling Speed

1.12 MPH
1.8 km / h

Swing Speed

8.4 RPM
8.4 RPM

Boom Swing Angle, (L / R)

45°/ 90°
45°/ 90°
Ground Contact Pressure (Rubber Track)
Ground Contact Pressure (Rubber Track)

4.18 PSI
28.4 kPa
Hydraulic System
Pump Capacity

5.2 GPM
19.7 L/min

Main Relief Set Pressure

2,625 PSI x 2
18.1 MPa x 2
Blade Dimensions
Width x height

2´3˝ / 2´9˝ x 7˝ ft-in
680 / 840 x 180 mm
Fuel Tank Capacity
Fuel Tank Capacity

2.6 Gals
10 L
View Specs & Dimensions Brochure